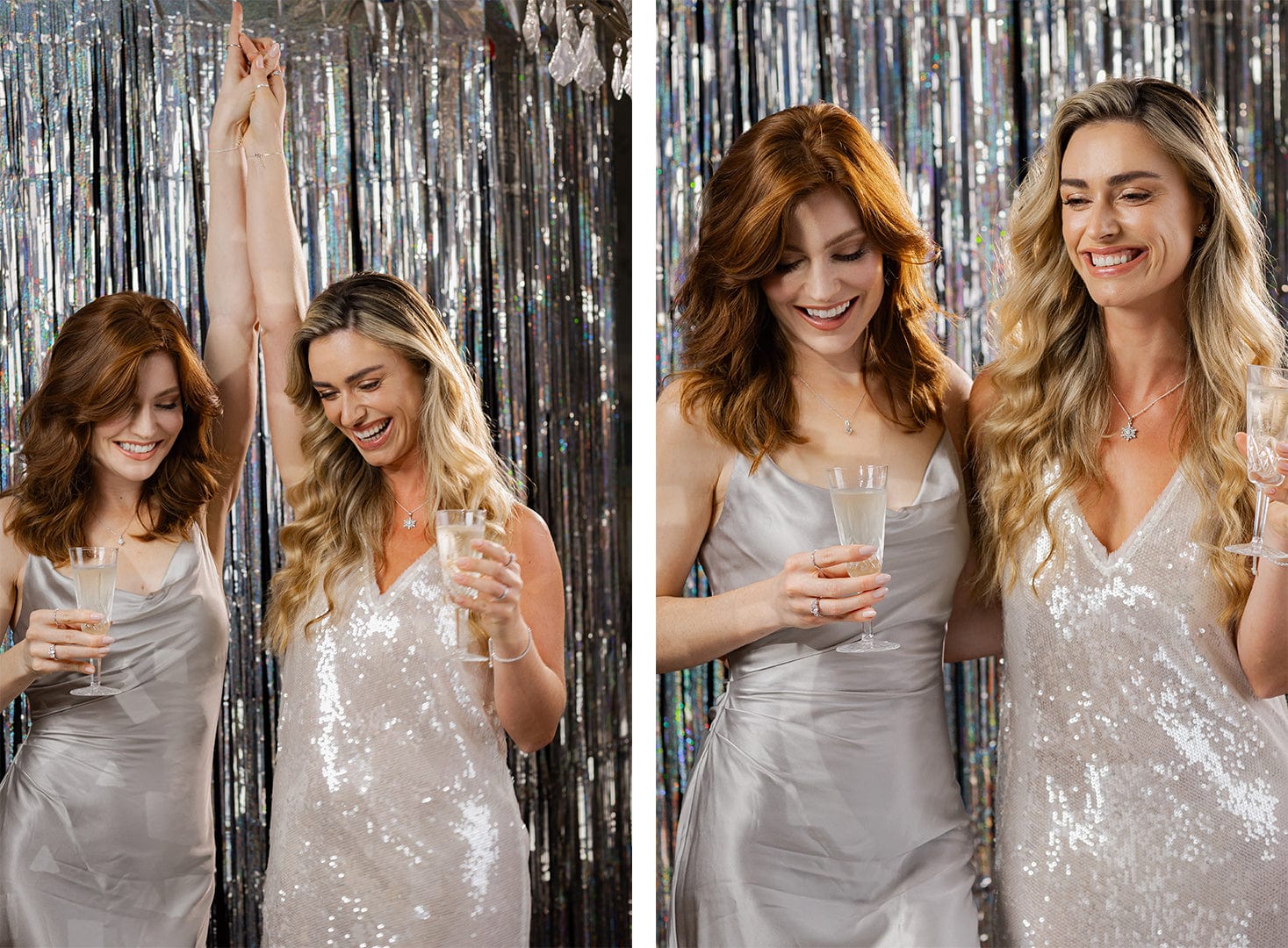 It's Beginning to Look a Lot Like Christmas...
Jewellery makes a wonderful gift, it can be a keepsake to last a lifetime or simply a small token for a new friend.
Shop the Festive Gift Guide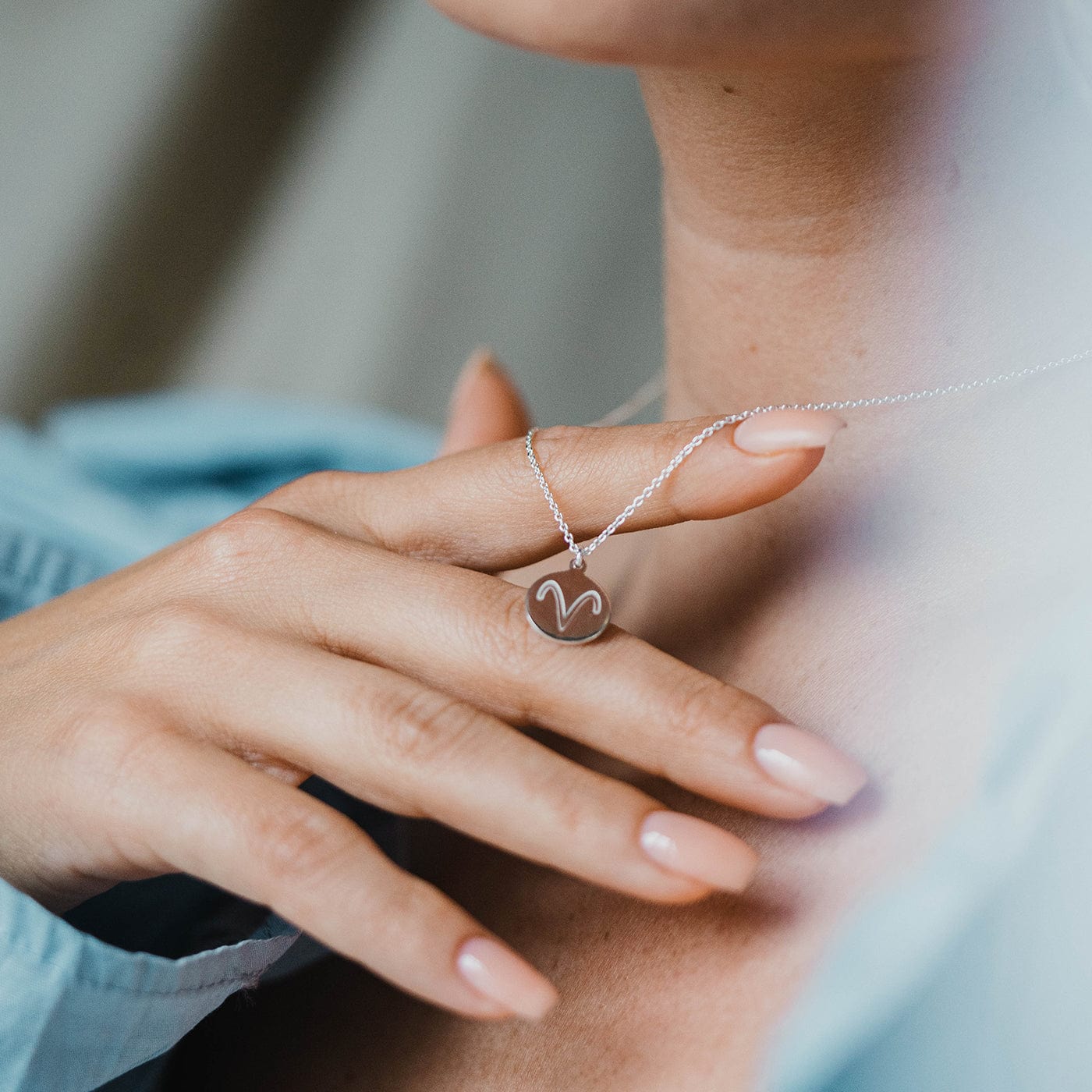 Gifts That Can't Go Wrong
Personalised gifts have become a big thing, and they're great when you're not quite sure what to get.
What's Hot
Shop Top Trends


Free delivery over £50.00

Frequently Asked Questions
Sterling Silver
Sterling Silver is made of 92.5% pure silver which is alloyed with 7.5% other metal, normally copper. Pure silver is too soft and malleable to be used for jewellery, and so, the copper alloy makes the silver harder and therefore more durable without compromising on the colour of silver.

The answer to this is yes – but don't worry!
The copper alloy in sterling silver can cause it to 'tarnish', causing a black or brownish coating to form on your jewellery. This is easily removed using an Essential Sterling Silver Polishing Cloth and underneath the tarnish your silver will not be damaged. Chemicals such as cleaning products and chlorine can cause damage to silver, and so we recommend removing your jewellery before coming into contact with any chemicals. For more tips on cleaning and caring for your jewellery click here.
Yes – Sterling silver does not have any added nickel in it and is therefore wearable by most people. Allergies to silver or the alloy metal are possible but rare.
Sizing
As we have so many styles, we unfortunately can't stock every ring in every size, but we try to include as many smaller and larger sizes as we can.  Each ring will have the range in which it is stocked displayed on its product page. If you can't find the ring you want in the size you need, fill out a contact form and we can look into this further for you.
Our rings are sized using the UK sizing system. To convert your EU or US size to UK, use our conversion chart which can be found here.
If you do not know your ring size, you can either pop into one of our stores where a staff member will be happy to help or check out our 'How to Measure your Ring Size at Home' guide.
For a standard necklace, we would recommend an 18-inch/46cm chain. This falls between the collar bone and chest on most people, but it will depend on your individual anatomy. For smaller frames try a 16-inch/41cm or for larger frames try a 20-inch/51cm. We're proud to stock a wide range of chains in a variety of lengths so we're sure we will have something just right for you.
For a more in-depth guide, click here check out our 'Guide to Chain Lengths' blog.
Delivery & Returns
We aim to send out all orders made before 12pm on the same working day, however, during busy periods it can take 2-3 working days to dispatch your order. We send all packages to mainland UK addresses via DPD, who will give you a 1-hour time slot for delivery with tracking information. Addresses in Northern Ireland, Channel Islands and Scottish Highlands are sent using Royal Mail 1st Class.
We hope you love your item but if you've had a change of heart then unwanted items can be returned to us for a refund. Items must be packaged in their original packaging along with your delivery note and returned to one of our stores or via post to PO BOX 636, Winchester, SO22 within 30 days of delivery.
We regret that pierced jewellery including earrings, cartilage jewellery, nose piercings and navel bars cannot be returned or exchanged for hygiene reasons.
We do not offer free returns for unwanted items. If your item is faulty, please contact us here before returning. For more information, please see our Returns and Exchanges.
To cancel your order, please email us at sales@essentialjewellery.com or send a contact form. While we will try our best to accommodate your request, if the order has already been dispatched we will not be able to cancel the order but can advise you on how best to return.
About
Yes – we started a long time ago, much before internet shopping was a thing! Our first store opened in 1990 in Southampton's 'The Bargate Centre'. Since then, we have expanded to having 7 wonderful shops packed full of treasures. To read more about our stores or find your nearest, click here.
Essential was started in 1990 by Clare with the help of her husband, Martin. Since then, the company has grown to include 7 stores across the South of England and a website but has never lost its family-owned roots. Clare and Martin continue to run the busines today, with the help of their children and dedicated staff.
We prefer the term 'good-value' but we've heard this plenty of times! We believe in great quality at affordable prices, we don't hide the cost of gift packaging in our prices but offer this for a small extra fee. As well as having a great relationship with our suppliers which allows us to pass on discounts to our customers.
Lovely gift!
I bought this silver ring for my Goddaughter's 21st birthday and she absolutely loved it! I also bought the matching silver hammered bracelet - they both look beautiful and are good value, very pleased.
Portia Y
8mm Hammered Sterling Silver Band Ring
Great
This ring is beautifully made. I bought one in an essential shop but had to order this one in my size online. So glad I did. The spinning rings help to control anxiety. I love essential jewellery and I'm so glad you've got an online shop. Would use again.
Jayne H
Sterling Silver, Pearl, Turquoise and Moonstone spinning Ring
Excellent value
It's an attractive, substantial ring. I can't believe the value. It fits really well.
Marysia P
Sterling Silver Pinched Band Ring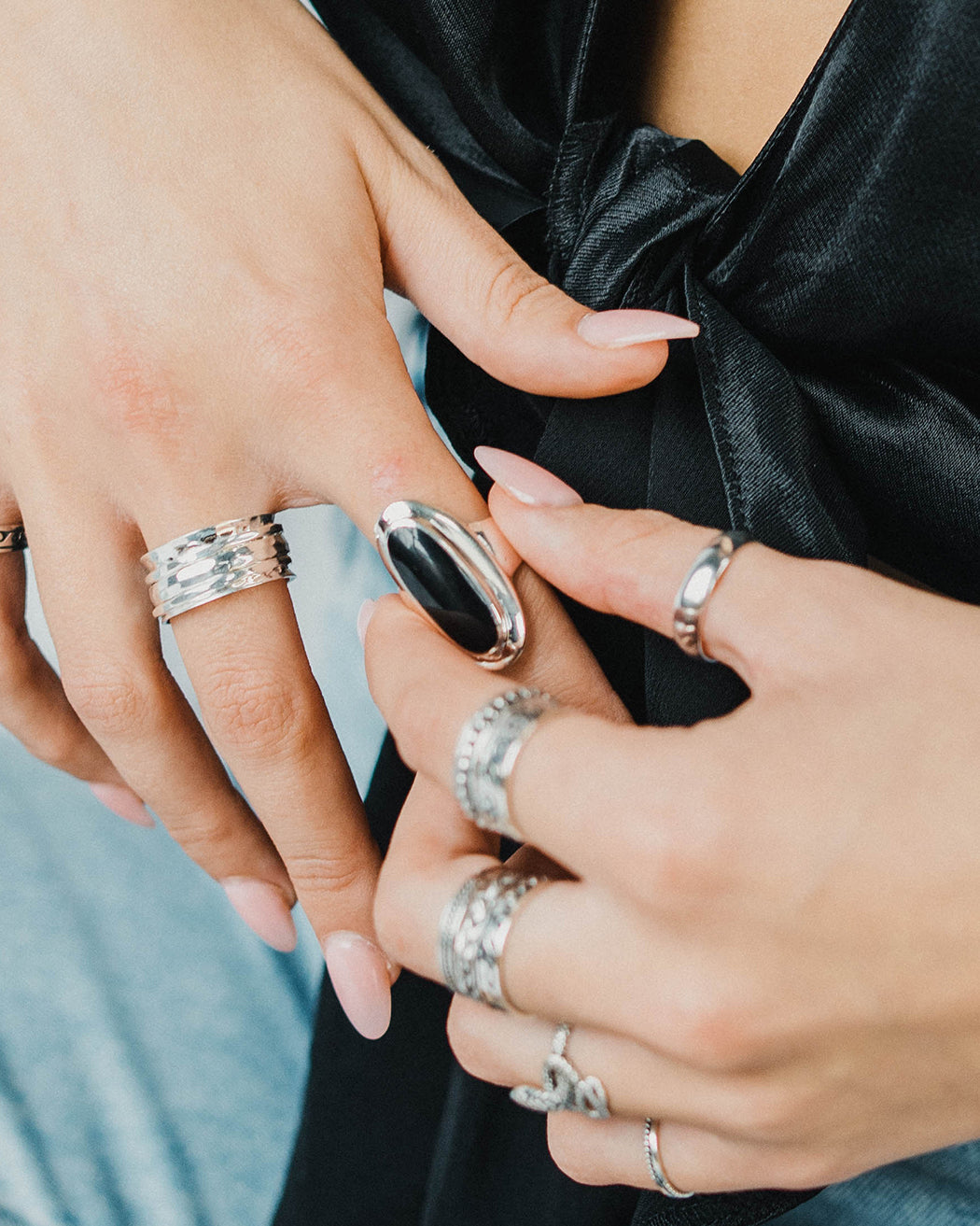 Blog
Birthstone: Alternative birthstone for July, Black Onyx is also seen as a stone for the Zodiac sign 'Leo'. Meaning: Black Onyx is thought to provide strength, protection and grounding.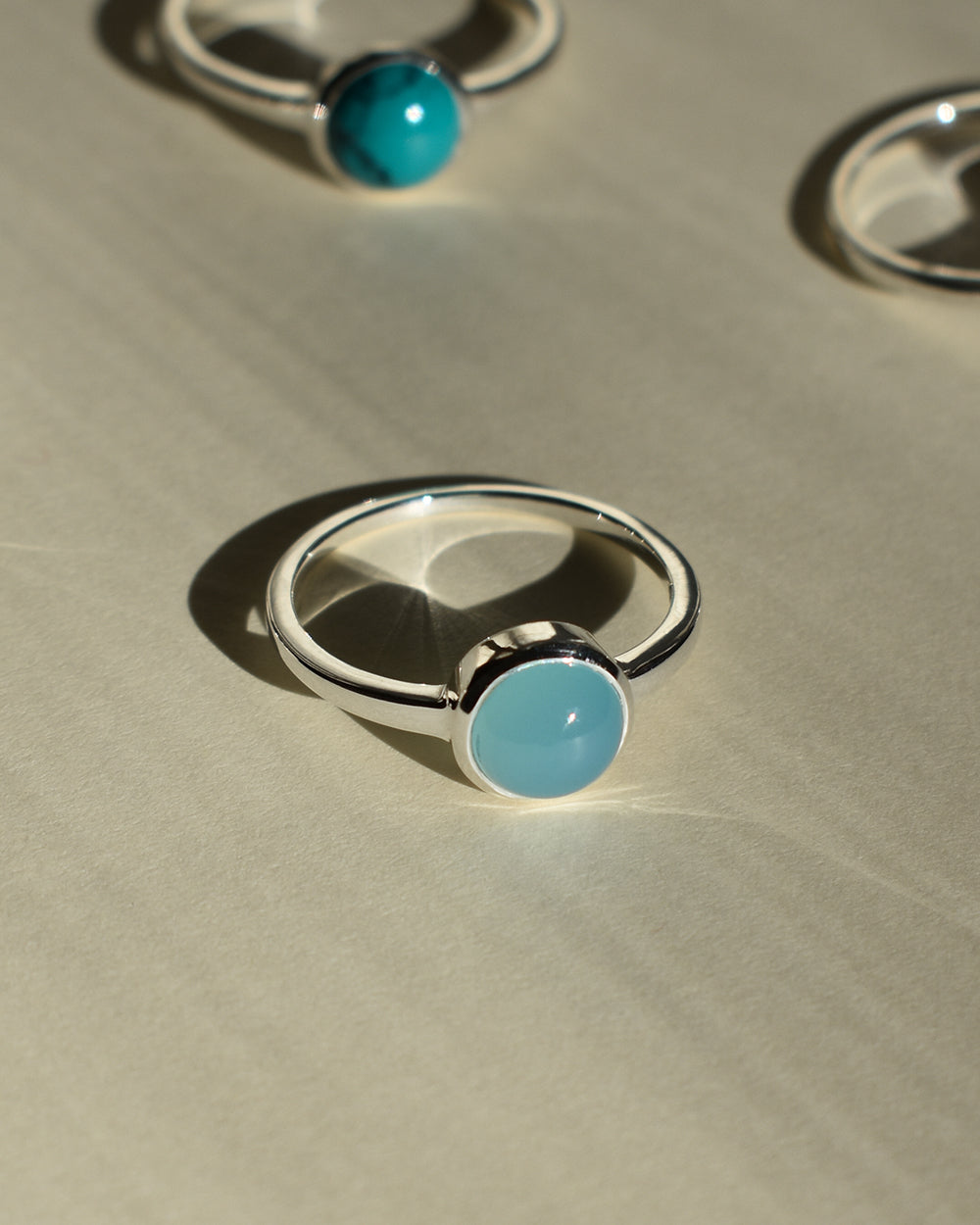 Blog
Birthstone: None Meaning: Blue Chalcedony is thought to absorb and disperse negative energy, promote joy and serenity as well as harmonise emotions and spirit.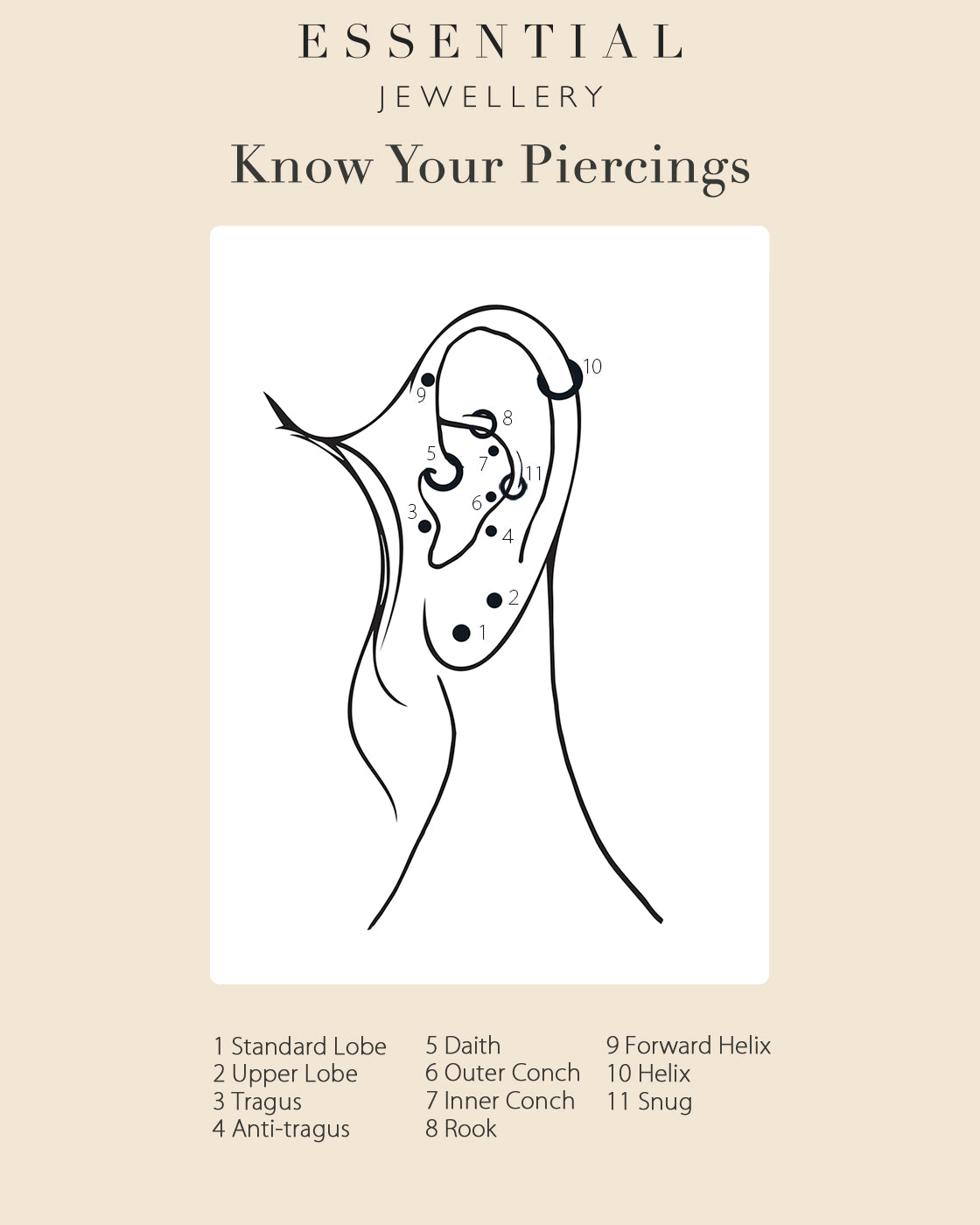 Guides
What is the difference between a cartilage and lobe piercing? One of the most frequent questions we get in our high street stores is 'what can I wear in my cartilage piercing?'. So, we've put toget...